My true love gave to me, a list of the best places in #HamOnt to buy books.
Hamilton offers dozens of reasons not to shop at big-box stores over the holidays. We've got independent record stores, a handful of craft fairs, neighbourhoods like James Street North and the International Village that boast stores of all kinds. We also have some of the best independent bookstores I've been to.
It's probably no surprise that I spend
a lot
of time in Hamilton bookstores, constantly adding to the pile of books that I'll never get through before I inevitably die. Despite the obvious commonality of books, books, and more books, each store offers something unique.
J.H. Gordon Books
314 King Street East
(905) 522-1862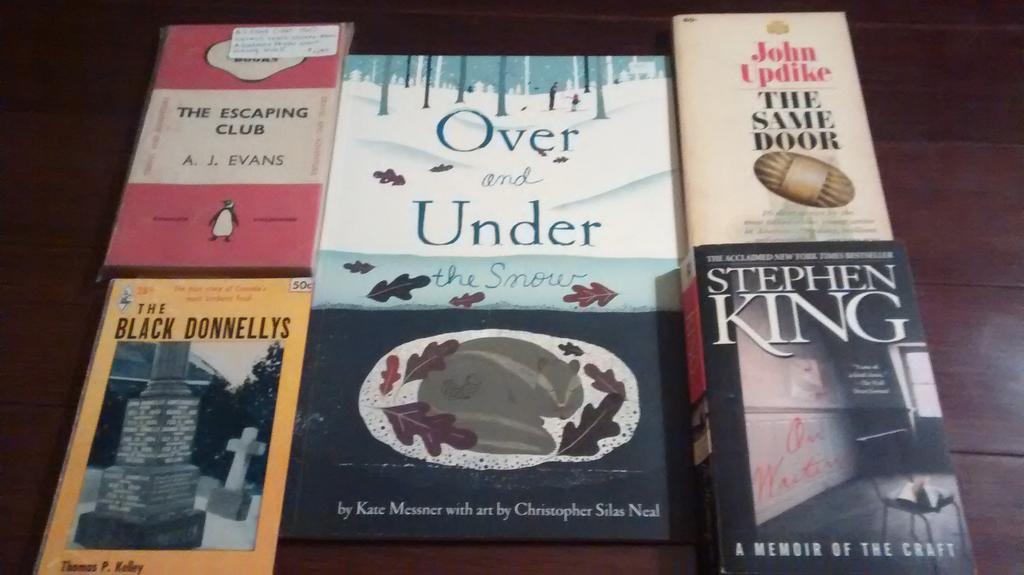 I'll start with
J.H. Gordon Books
in the International Village because it's where I bought
my most recent haul
(pictured above) on an evening when I was supposed to be shopping for others. If you're not familiar with J.H. Gordon Books, you can't miss its bright blue exterior. There are a few things you should know about the shop. Firstly, it's perfectly curated. Owner Julie carries new (mostly local and independent books) and used books: "We pride ourselves on carrying only the very best in gently used literary fiction, classic literature, award-winning Science Fiction and Fantasy, and scholarly and general non-fiction titles. Secondly, the store will trade store credit for your gently used books. And finally (though I could go on), Julie is
currently blogging through the recipes
in one of my favourite local books this year, In Grace's Kitchen by Vince Agro. In related news, now I really want pasta.
226 Locke Street South
(905) 525-6538
Maybe it's because I edit kid's books for a living, but I'm a gigantic snob when it comes to picture books. My go-to place to buy children's books is Epic Books on Locke Street. Despite being a small store, it has a huge collection to choose from. And let's face it, I'm 31, so I pretty much have a baby shower to go to every other weekend these days. Epic also has a section devoted to books written by local authors, so it's a great place to get some of the books I will highlight in this 12 Days of #HamOnt #ReadLocal series. And to state the obvious, Epic is located on Locke Street, where you can find something for everyone on your list (unless you're buying for somebody who hates books, cheese, chocolate, music, and antiques).
Bryan Prince Bookseller
1060 King Street West
(905) 528-4508
One day, I want my entire house to look like the inside of Bryan Prince Bookseller. I want to have books from floor to ceiling, and I want to need a ladder to reach the top shelf. I don't make it to Westdale often, therefore I'm not at Bryan Prince Bookseller as much as I would like; however, the shop occupies a big place in my heart because of its support of local authors and the city's literary festival,
gritLIT
, which I am happily a part of. The staff at Bryan Prince Bookseller are friendly and helpful, and I desperately need to spend more time there. The shop is responsible for so many of #HamOnt's literary events. Expect announcements about their
2015 events
in January.
James Street Bookseller & Gallery
134 James Street South
(905) 296-1251
I'm biased, but James Street South is one of Hamilton's most unique neighbourhoods. It's a tiny stretch, but it's home to some of my favourite places, including House of Java and James Street Bookseller & Gallery. I lived seconds away from James Street South until recently, and I miss calling Durand my home. (Sorry, Stinson. I love you, but change and I aren't always on the best of terms.) Each day, multiple times a day, I walked past James Street Bookseller & Gallery, sneaking in whenever I had the chance. Like J.H. Gordon Books, this shop offers a wonderfully curated collection of second-hand books. I've always been most successful in the shop's biography and memoir section. Recently, James Street Bookseller became James Street Bookseller & Gallery, showcasing the work of visual artists. Learn more on the
Artist Gallery
section of their website.
The Bookworm
852 King Street West
(905) 523-4345
It's confession time. This is embarrassing to admit as somebody who spends a lot of time writing about local books and reading local, but I've never been to The Bookworm in Westdale. I do, however, know it's a go-to shop for many people in Hamilton's literary scene whom I trust. Be a better citizen of #HamOnt than I am, and go browse the store's 27,000 second-hand books, among them many that are difficult to find and/or out of print.
Speaking of stores I haven't visited, I'm sure there are bookstores on the Mountain that I'm missing, among them Mountain Books on Concession Street. Let me know which stores I'm missing, and I'll happily visit them (and blog about them) in the New Year.
Don't forget there are also many stores in Hamilton that don't specialize only in books, but do carry them, including
Mixed Media
(154 James Street North) and the newly opened
STORE
(in the old Leon Furs building on James Street North).

Happy shopping.